Discover more from dnkrby wine club newsletter
Bite-size, relatable insight, for people who like drinking wine.
Do I Need Glasses?
Oh, jeez, I thought to myself I'd never do it, but for some reason I'm going to talk about glassware. Hold tight.
There are loads of styles of wine glass, I'm on record saying they don't make a difference, but since I needed to buy some more for study purposes I've been really overthinking it.
The ISO Glass
Yes, these things. If you're at all interested in wine, and especially if you've done some form of formal wine education, you've probably come across them. They're touted as standard bearer for consistency, dependency and taste.
I'm here to tell you that's nonsense.
Most wine educators like them because they're small, meaning they don't waste too much nice wine on people who don't understand it*.
The common narrative is that the standardised form is good for stripping away any impact that changing glasses might have.
Right at the heart of understanding is an lack of enjoyment.
If you can, take your own glasses to a formal education setting. Yes, you'll look like a twat, but at least you'll be comparing Yellowtail to Dead Arm in a decent glass.
You can do better for £20, but you'll need three boxes. One box to take with you, a handy box of replacements, and another for when you end up using them at home.
The Paris Goblet
Yes, these old things, I can barely believe they still exist, oh but they do.
They say not to judge a book by it's cover, but you can certainly judge a pub by its glassware. If I see a Paris goblet on the back bar, then there's no chance in hell I'm ordering a glass of wine.
If you know a pub that still routinely uses them, they haven't got any taste, literally and metaphorically.
Their dumpy, wide brimmed design are prohibitive for swirling, one step beyond the ISO glass they don't just ensure consistency, they ensure tasteless consistency.
Unfortunately, I think there's one or two I haven't got round to breaking at my parents house. Add an extra box to your shopping basket to replace whatever old glasses your parents have kicking around at the back of the cupboard.
The Millennial ISO
These are pretty common now, a newer generation of wine tasting glass, the Chef & Sommelier, 'Open Up' Pro Tasting Wine Glass.
What are Some Characteristics of Millennials?

Millennials are technologically savvy and connected.

Millennials are transparent.

Millennials value straightforward management and recognition.

Millennials desire diverse work and collaboration.

Millennials are attracted to positions that offer a work-life balance, flexibility and career advancement.
I mean, only the second point there is technically accurate, and the last point is utterly irrelevant, but hopefully you get the idea.
They're modern and nice to use, they get the job done and customers comment on how nice they are. They're good all rounders, but they might be a bit needy.
I use them at the vineyard** and they really are lovely, I don't really have a bad word to say about them.
My MW Study Glass?
I thought you'd never ask. I was stuck in a rut and really thought about splashing out on some benchmark, branded glasses, like ludicrously expensive Zalto Glasses. Every time I use them I remember they are probably the best glasses you can buy.
I thought better of it.
They are prohibitively expensive, and the lovely people who chip in to help fund my MW studies might be a tad pissed off if I splashed all the cash on some fancy glassware.
I saw these on Instagram: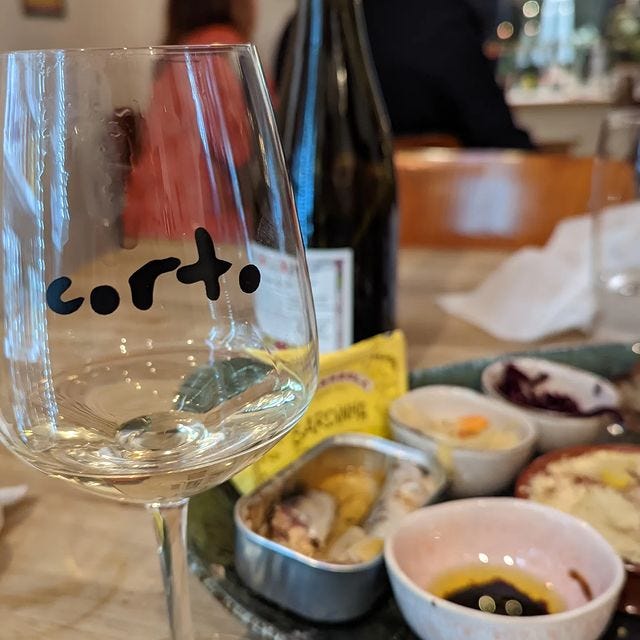 Turns out they're from Arcoroc, a glassware brand found in most pubs in the country*** for basic pint glasses.
The 'Vina Juliette' is one of their more modern ranges, and Corto use the 50cl version, I've got the smaller 30cl version.
I bought more than I needed because I've started using them at home and I plan on dropping a box round to my parents.
Turns out, as long as your glasses are not completely shit, you'll probably be O.K.
Onwards!
dk
---
* Also, they don't break
** I work at the cellar door for Flint Vineyard in Norfolk. Very surprised if I haven't mentioned that already.
*** Frustratingly Arcoroc pump out Paris Goblets by the pallet. The world is so, so cruel.
---
Further Reading
Tips for working with Millennials. Finding a good glassware analogy led me into a remarkably accurate rabbit hole, via Indeed.com
Guide: Common Millennial Characteristics and Work Tips
Wineware is a pretty decent place to start when it comes to hunting down decent glassware in the UK.